Braces
Orthodontics is the science of straightening natural teeth. Crooked teeth are typically seen as a cosmetic issue, but they can lead to dental issues and poor oral hygiene as crooked teeth are harder to brush or floss.
Types of Braces
Conventional braces – Metal brackets are bonded onto teeth. A series of custom-made wire arches gradually align the teeth into their new positions.
Ceramic braces – Tooth-colored braces which blend better when bonded onto teeth and look less obvious than conventional braces.
Self-ligating braces (Fast braces) – Specially designed metal brackets with a clip instead of adopting the usual rubber modules. The friction-free factor of these braces enables faster movement of teeth while minimizing pain and discomfort.
Invisible braces (Invis

a

lign™) – Digitally-designed invisible aligners that straighten your teeth. Straighten your teeth without anyone knowing! With removable aligners, cleaning of teeth is a breeze compared to fixed braces.
Conventional Braces
Ceramic Braces
Self-ligating Braces
Invisible Braces
Treatment Overview
Treatment planning is critical when deciding on braces, as each type of braces has its advantages as well as limitations. Our orthodontist (braces specialist) will assess your dental condition and advise you on the range of options available to you, including the types of braces that will give you optimal results. A detailed assessment includes a full-mouth x-ray. 
The following will be discussed in a braces consultation visit:
Your concerns

Diagnosis and discussion of dental problems

Length of the proposed treatment

Other dental work needed before or after braces treatment

Risks and limitations

Results and outcome

Cost of treatment

Possible treatment alternatives

 
Procedure
Braces
With the exception of invisible braces, most types of braces are fixed. This means that once our orthodontist has bonded the brackets onto your teeth and applied the wires, you cannot remove the braces on your own. You will be visiting the orthodontist every few weeks for adjustment of your braces till the end of treatment, which can vary between 7 months to 3 years (average 1.5 years ) depending on the type of braces you choose and the complexity of the work required. You may experience some discomfort lasting a few days each time the braces are adjusted. This is because the braces are applying small but sustained forces to your teeth to move them into their new positions. You will do well to persevere as the discomfort will wear off after a few days!
Invisible Braces

Treatment with Invisalign™ requires much self-discipline! You will be seeing the orthodontist every 4-8 weeks for reviews.  At each visit, you will be issued one or more sets of aligners. Aligners are tight-fitting custom-made mouthpieces that fit over your teeth and help shift them into their new positions. Like patients using conventional braces, you must expect some discomfort each time you start wearing a new set of aligners. Moving those teeth into new positions requires the application of some sustained forces. Temporary discomfort each time you start wearing a new set of aligners is inevitable and a necessary part of the beautifying process! You must commit to wearing those aligners 20 to 22 hours a day, removing them only during mealtimes and for cleaning purposes. You have to wear your aligners to bed every night for the duration of Invisalign™ treatment. This duration varies widely depending on the treatment plan and your compliance with it! For the average Invisalign™ patient, treatment duration is for 1.5 years.

Post Treatment Maintenance
The completion and removable of fixed braces marks the next important phase of orthodontic treatment. Teeth are now straightened and retainers ensure that they stay in their newly aligned position. Usually, removable clear plastic retainers are used but there are also fixed retainers available depending on each patient's relapse risk. Wearing retainers as instructed is the most critical piece of advice to ensure straight teeth after braces. Invisalign™ patients who have completed their treatment will likewise need to wear retainers to maintain their new smile.
Crowns and Bridges
Crowns
A dental crown is a fixed prosthetic device that is used to cover a damaged tooth. This "cap" strengthens a tooth damaged by trauma or extensive decay. It can also be used to improve the appearance or alignment of a tooth. In addition, crowns are cemented onto dental implants to restore the function and aesthetics of a missing tooth. Crowns are made from a wide range of materials such as stainless steel, gold, porcelain, and zirconia. Each material has its own advantages and disadvantages in terms of strength, aesthetics and costs. Our patients are encouraged to discuss their priorities so they can be guided to choose crown materials most suited to their specific needs. 

At your first appointment, your dentist will examine the tooth to make sure that it can support a crown. Your dentist will then begin filing it down to prepare for the crown or fill it in to make it large enough to properly receive it. After the tooth is filed or filled, the tooth will have a new temporary crown that protects it until the permanent crown is ready to be placed. On the second visit, the temporary crown is removed, after which the new crown will be positioned and cemented onto the tooth.

Bridges

A dental bridge is commonly used to replace one or more missing teeth. The dental bridge typically consists of two crowns which support one or more replacement teeth known as the pontic(s). The crowns are cemented onto the natural teeth on each side of the empty space; these serve as anchors for the dental bridge. Just as for crowns, dental bridges come in a variety of materials.
A fixed bridge will require at least two dental visits to complete. On the first visit, the dentist prepares your neighboring teeth. He takes an impression of your teeth and creates a temporary bridge. The lab designs the permanent bridge which is cemented in two weeks later.
Digital scanners are now available which allow the dentists to scan your teeth and capture the data previously only achievable with a dental impression. This new technology offers a comfortable and efficient alternative to conventional methods of taking impressions.
Advantages and Disadvantages
Dental bridges look, feel, and function like natural teeth. Unlike dentures, they do not require removal for cleaning. However, they require extra effort to clean and once in place, can only be removed by a dentist. The biggest disadvantage of bridges is the need to sacrifice neighboring good teeth, paring them down so that they can be fitted with crowns in order to support the pontic.
Smile Design
First impressions can make or break a career or a new relationship. Your smile is a crucial part of that first impression. As such, improving your smile can be one of your most important lifetime investments!
What is Smile Design?
Smile Design uses the face as a guide to design a beautiful and proportionate smile. It is a holistic approach which resolves underlying dental problems, creating a natural-looking smile while restoring dental function. 
How will the Dentist Achieve an Attractive Smile for Me?
Aesthetics can be subjective. As such, the dentist will seek to understand your concerns, priorities  and desired outcome. Modern aesthetic dentistry provides many options for smile design. Veneers, crowns, bridges, implants, visible and invisible braces and whitening treatments can either be used alone or in combination to help you achieve that desired smile. Even as we plan for optimal aesthetic results, good function must never be compromised. The longevity and costs involved in each treatment option can vary considerably. Some options such as braces require long-term commitment for a successful and lasting outcome. All these will be discussed in detail so you can make good informed decisions for your smile design solutions.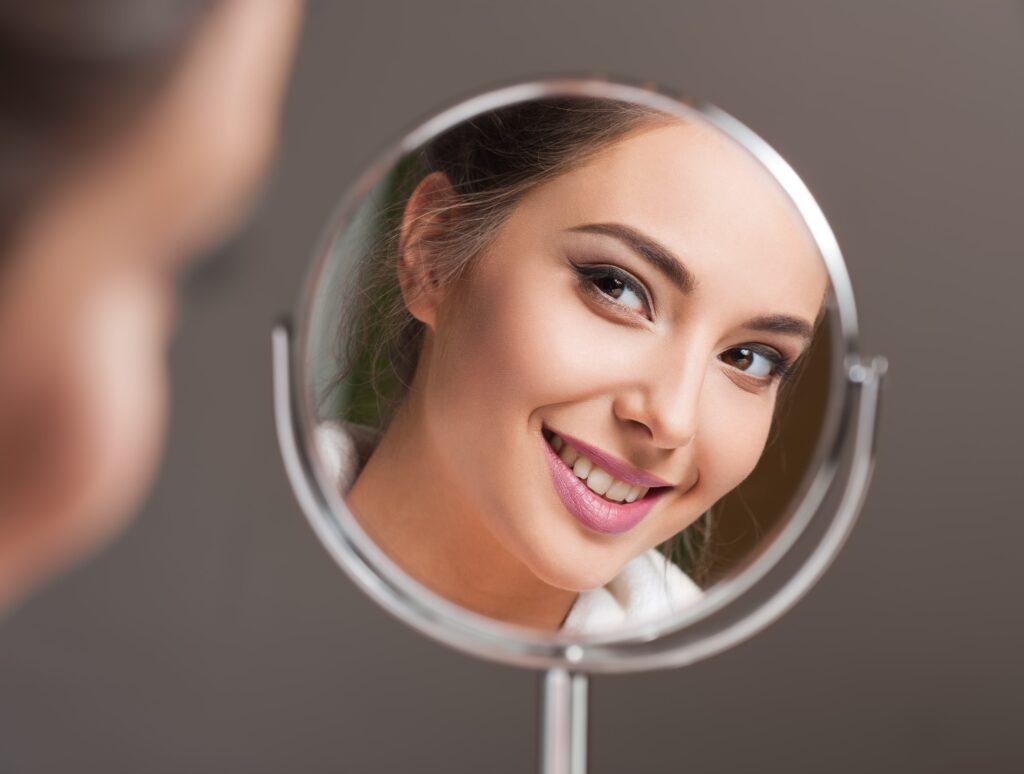 The outcome? A smile that makes you look naturally attractive and healthy. With smile design, you can achieve your desired smile!
Teeth Whitening
Teeth whitening is performed using various whitening products to whiten discoloured teeth. These products contain either carbamide peroxide or hydrogen peroxide which penetrate the enamel to reach the discolored molecules inside your tooth.
Teeth Whitening Options
In-clinic procedures, professional take-home kits, and over-the-counter products are some options
for whitening teeth. The strength of the whitening agent varies widely with the method used.
What is the difference between professional teeth whitening and over-the-counter kits?
The highest strength of hydrogen peroxide is used in in-office whitening procedures. In addition, a teeth whitening light is used to activate hydrogen peroxide, helping it to penetrate the surface of the tooth. When the hydrogen peroxide gel is broken down, oxygen enters the enamel and dentin, and breaks down the colour pigments in the tooth. This treatment is performed by a trained dental professional, ensuring optimal results. The in-office whitening treatment is hassle-free and is completed in one seating. It has been clinically proven to lighten teeth by an average of eight shades in just one visit.
Professional take-home whitening kits sold in dental clinics contain the next highest strength of  whitening agents. These kits come with customised home-whitening trays which have been specifically fabricated by the dentist for your teeth. This allows an excellent fit during your home treatment, ensuring comfort and maximum contact between whitening gel and teeth surfaces. 
Over-the-counter products contain the lowest strength of hydrogen peroxide. They come with standard-sized trays which may not fit your teeth well. They usually contain very low levels of whitening agents for safety reasons, resulting in less visible results and hence generally lower patient satisfaction.
What can I expect when whitening my teeth?
Some temporary teeth sensitivity should be expected during treatment. This will ease off after
treatment and will not cause permanent harm to your teeth. Any discomfort can be managed by painkillers when necessary.
What do I need to do before teeth whitening?
For best results, your teeth need to be in maximum direct contact with the teeth whitening gel used. A scaling and polishing procedure should be done 3 days to 1 week before the whitening procedure. This helps to remove surface stains and bacterial film on the teeth, allowing the teeth necessary exposure to the whitening gel used.
Teeth whitening is only safe when performed in healthy mouths. Active dental problems should be treated before teeth whitening. These include tooth decay, cracked teeth, nerve infection, gum disease etc. Left untreated, such dental conditions allow the whitening gel to seep into the internal part of the teeth and gums, causing injury and severe pain.
How effective is teeth whitening?
The degree of whiteness of the teeth achievable depends on several factors: genetics, the condition of the teeth, the degree of staining, and the type of whitening method used. Teeth whitening is only effective for natural teeth. It will not have any effect on teeth restorations like dental fillings, crowns, inlays, or onlays. If you have existing dental restorations in your mouth, it is advisable to discuss the desired treatment outcome with your dentist before proceeding.
Teeth whitening treatments are not permanent. To maintain your teeth whiteness for a longer time, avoid foods and beverages which stain your teeth.
Veneers
Veneers are thin custom-made porcelain shells designed to fit discreetly over the front surface of a tooth, like how a false fingernail fits over a nail. Sometimes a natural-colour composite filling material is used instead of porcelain. 
Veneers are done for the following reasons:
Gaps between teeth

Worn-down teeth

Uneven, misaligned, or irregularly shaped teeth

Broken or chipped teeth

Discoloured tooth e.g. from trauma, root canal treated teeth, fluorosis, stains from medication or large amalgam fillings
Generally, there are 2 types of veneers available:
Porcelain Veneers

Composite Veneers
Porcelain veneers have a translucency that is similar to natural teeth and they retain their beautiful, natural, and youthful look through the years. They are stain-resistant and do not discolour, which is particularly important for those who smoke or drink black coffee or red wine. Porcelain veneers are fabricated in a dental laboratory and are more lasting compared to composite veneers. Two visits are required to complete porcelain veneers.
Composites veneers are tooth-coloured filling materials that can be used to restore chipped, cracked or stained teeth, as well as fill gaps between teeth. The dentist moulds the composite veneer directly onto the tooth, so the final result is achieved in a single visit. Composite veneers are easily re-shaped, repaired, polished and maintained. They are less costly than porcelain veneers as no dental laboratory fees are incurred.
A veneer is a conservative dental restoration that allows you to achieve a beautiful and confident smile very quickly.